About Us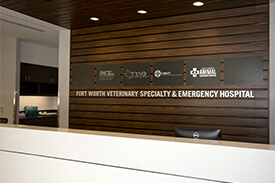 Fort Worth Animal Emergency Hospital (FWAEH) is open to care for your pet when your regular veterinarian cannot. Whether your pet has serious, life-threatening problems or minor emergencies, we are a fully functional emergency and critical care service which includes the capabilities of the entire specialty hospital.
Care is performed by emergency trained veterinary clinicians and technicians whose focus is evaluating your pet's condition quickly so that appropriate treatment can be instituted. Your pet's condition and treatment options will be thoroughly explained and any questions you have will be answered so that you are able to make the best decision for you and your pet.
We are also proud to support residency trained doctors, who have elected to pursue further training and education beyond their veterinary degree. Veterinary residency is generally a three-year program designed to provide supervised clinical experience, training, and educational opportunities to further their knowledge and qualify them to become board certified. 
Our mission is to provide the highest quality of emergency and critical care available in the industry while maintaining professionalism and compassion. Additionally, FWAEH will strive to provide exceptional customer service to both referring veterinarians and clients with an emphasis on mutual respect and communication.