Fort Worth Animal Emergency Hospital provides emergency and critical care services to southwest Fort Worth and surrounding areas. The FWAEH emergency team evaluates, diagnoses and treats a range of medical problems, including those that may require surgery. In the event emergency surgical intervention is required, our experienced staff is able to provide appropriate care. We work with the other veterinary specialists in our hospital to provide the highest quality medicine for your pet, including referral if needed. Please call (817) 263-2900 for more details.
Our services include, but are not limited to the items listed below.
Critical Care
The critical care and emergency service has state-of-the-art equipment for diagnosis and treatment of cases, including multiple means of oxygen administration. A team approach allows the doctors and staff to provide excellence in the management of the critical patient.
Intensive Care Unit
In the event hospitalization is required, the Intensive Care Unit (ICU) at FWAEH is designed for comfort and safety with sophisticated vital signs monitoring equipment and other technology to address your pet's health needs.
Transfusions
We offer administration of blood products by a well-trained and dedicated staff, with an emphasis on component therapy. Whether dealing with emergency transfusion needs resulting from trauma or immune mediated disease, or managing the chronically ill with repeated transfusions, blood products are available at all times.
Surgery
In certain emergency situations, surgical intervention is required. We maintain a state-of-the-art surgical suite, including advanced patient monitoring equipment. Our experienced doctors and staff are able to provide appropriate surgical care for your pet when needed.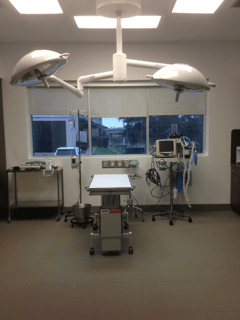 Point of Care
Point-of-care monitoring capabilities include direct and indirect arterial blood pressure, coagulation parameters, complete blood counts, blood chemistries, blood gases and lactate. This enables the staff to fine tune therapies and medications to individual patient needs.
Imaging
We offer state-of-the-art digital radiology and ultrasound. This equipment aids our doctors in diagnosing many conditions in the emergent and critical patient.
Referrals
Besides our criticalist at FWAEH, our hospital is home to multiple specialty disciplines including surgery, internal medicine, oncology and ophthalmology. This allows us to make timely and convenient referrals when needed.